March 6th - Well Jasper and I had our snowmobile trip and it was an adventure! Jazmyn had a rough week. Fell and put a nasty gash in her forehead, then the next day fell and rug burned her cheek AND go a shaver and cut her chin! She looks like a rough and tough girl! The weather has been pretty nice. On Saturday we went to Heritage Music Day at the Heritage Center here in Bismarck. John & Darcy and family came down. They had workshops for various instruments and then an open jam session that evening that we participated in. That lasted for an hour and we played the whole time. Both Madison and Jaidra are getting quite good at guitar and singing. Then at 7:00 they had an instructor jam and since I was the only bass player there they invited me to jam with them so I played for another 2 hours (had jammed some earlier in the day also) so I was totally exhausted! Playing bass is quite different from guitar. I think colds are winding down although both Jaz and Zion have a touch of pink eye.
March 13th - Still nice weather. We had about 3 inches of heavy wet snow Friday morning but it was all gone by that afternoon. We went up to Minot for the Home School jam (they had a jam at the Home School Convention this year and asked us to help facilitate that so even though we were to busy to go for the convention we went for the jam) Friday night and had a good time. Then on Saturday the family played in Garrison for a fund raiser and then we had our regular monthly jam in Bismarck on Sunday so played for about 6 hours over the weekend!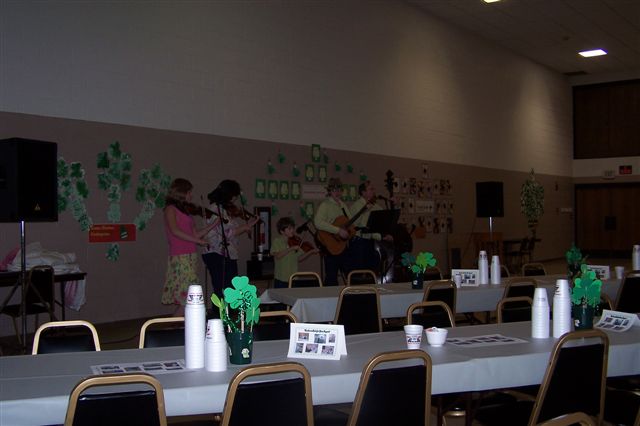 March 20th - We had a bit of snow but nothing like they forecast. Any moisture is appreciated at this point. The Suzuki School did coat check at the Symphony Saturday night so Vanessa, Starlit and I went. It was quite enjoyable. Jazmyn is saying words like mik (milk) and talking up a streak. Most of it is still in an unknown language but she sure thinks she is talking! Zion can catch more of it than we do. He is looking forward to his birthday (April 10th) and of course so is Starlit. Jaidra turns 17 on the 29th of March here. Hard to believe how time flies.
March 27th - Wind - that is the one constant here in North Dakota! Cold and windy or warm and windy - always wind. It does keep the air fresh! We went to another presentation of Christ in The Passover. This one was presented by an Israeli and his wife and was very good. Jews For Jesus has been presenting these for quite a while and I would strongly encourage anyone to go and see if you get the opportunity. We actually bought a DVD with the presentation (by a different person) so anyone who is interested just ask! Jazmyn is quite the little kid (of course they all were!) and wants to play the violin. But not a small one - oh no - she only wants mommas big violin to stick under her chin! Uff da is all I can say about that little kid.